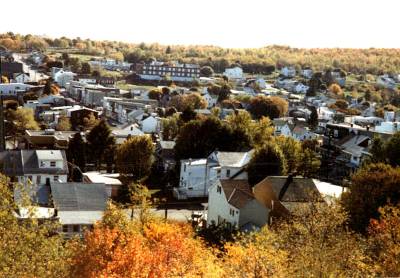 Eastern Pennsylvania Coalition for Abandoned Mine Reclamation (EPCAMR) along with Wilkes University and several others spent today Saturday October 25, 2014 cleaning up Centralia. They removed 176 tires and 2 full dumpsters of trash from the Centralia area. They cleaned up Laurel St, which was such a disaster, most of Railroad St in the area of Meyers St and the area of Odd Fellows Cemetery. I was told they will be back sometime in 2015 to clean more. Hopefully people will stop dumping there.
| | | | |
| --- | --- | --- | --- |
| | | | |
| Bob Hughes Director of EPCAMR | Volunteers at the Municipal building | Tire cleanup | Andy Ostrowski, who's running for Congress volunteered |
It makes me sad to announce the passing of Carl Womer on Saturday 24th 2014 at the Columbia Moutour Hospice at Maria Hall in Danville. Carl had been there for five days. He was in failing health for several months. He was 90 years years young. A Mass of Christian Burial will be held at 1 PM Wednesday at St. Joseph's Catholic Church Girardville. Interment will be in St. Ignatius Cemetery Centralia. The total article can be found in the News Item obituary.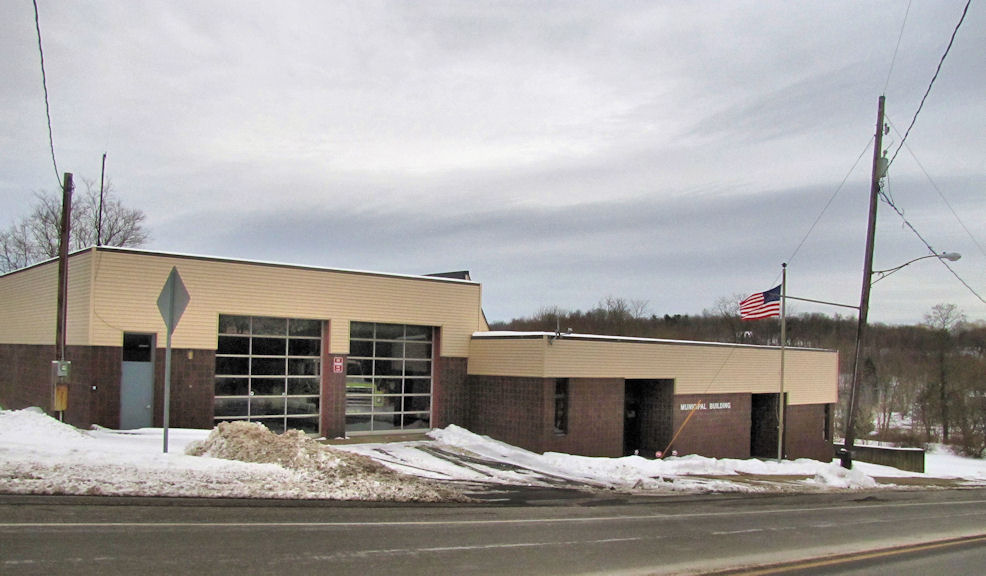 New Siding on the Municipal Building 12/29/12
The big question here is why do you put brand new siding on a building you're looking to get rid of?
WOW, 50 years today the 27th of May. It really passed very fast. That's how long it's been since the fire started in Centralia. Lots has happened in that time. Stories and pictures flew across the internet like wildfire. Interviews and lectures all over the country. I just finished watching David Dekok on the local TV station, he's having a paid tour of Centralia on that day, anything to make money I guess. If I stood on the bottom of Hammie's Hill over the last 3 years and collected a dollar a person for everyone who came up the hill to see the smoke, I would be rich. What did John Lokitis Sr. know when he refused to move and still lives there to this day. Did he heed the words of his father, who knew every part of the mines under Centralia like the back of his hand? Carl Womer lives right where the fire passed through. Why didn't Helen Hynoski leave? Does her son Tom know those mines also? Did they know the fire wouldn't be able to reach them? Take a look at the mine map I've posted, what do you think? Why does the fire remain on Hammie's Hill for all these years if it could go further? These are questions I've asked myself since 2009. Look at the map and think for yourself.
Memorial Day St Ignatius Cemetery May 28, 2012
Memorial Day 2011 in St Ignatius Cemetery
On February 11, 2011 the News Item published a story of the Centralia Council meeting the previous Monday. It was reported that they were discussing paying an electric bill for the Christmas lights. The bill was $92.00 and someone had donated $50.00 toward the bill. Upon reading the article, I forwarded it to my friend Stephanie Bambina in Kingston NY. Stephanie is also very concerned about Centralia. She fell in love with the borough when she first visited in 2009. Stephanie forwarded the remaining $42.00 balance to Bonnie Hynoski for the bill. We care about the borough and try in any way we can to help.
I have been collecting documents on the current court trial that is going to take place between the people of Centralia and DCED, CCRA, Blaschak Mining and Rosenn Jenkins & Greenwald. There is quite a paper trail and in talking to the Court Clerk at the Federal Building in Williamsport, it could take months to get the trial scheduled. As soon as I receive the schedule, I will post it so anyone who is interested could go, it is open court.
On a lighter note, here is my dog George, yesterday (Feb. 17), in Centralia in the snow up on North Troutwine St. and a beautiful pheasant up near Sts. Peter & Paul's Cemetery.
A very important issue was brought to my attention. Bob Gadinski, a former PADEP Hydrogeologist and resident of Centralia and John Mellows a former geologist with PADEP supplied information which I have forwarded to the Centralians in the current law suit. Back in 2002 Fred Baldassre wrote a report on CO2 infiltration into homes from Coal Combustion Waste or "fly ash". Bob pointed out to me that up in Dunmore PA they had more CO2 then Centralia and there was no evacuation in that area. More important that Bob believes quite a lot of high CO2 readings were coming from the fly ash barrier that was placed to stop the fire and not the fire itself.
These three precious items were sent to me by Betsy from the Centcony board.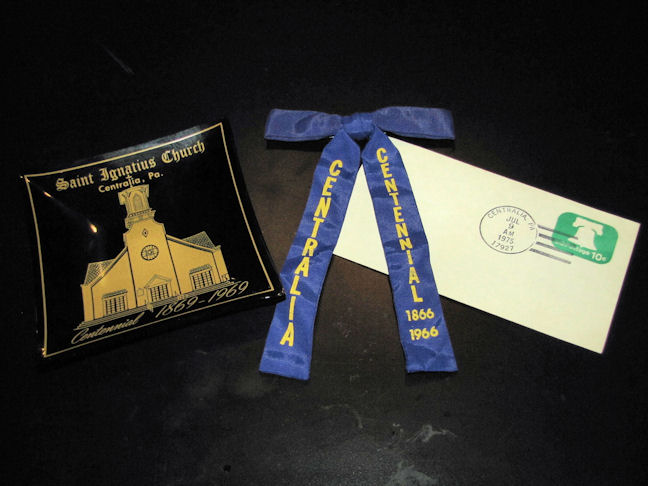 Left is a commemorative plate from St Ignatius, middle a bow tie from the centennial and right, a post card from Centralia form 1975. Thanks Betsy, these items are very appreciated.
Two days this past week I spent in Centralia with Sally Montana, a professional photographer from Switzerland. she had seen a documentary of Centralia in her country and was eager to come here and take some pictures and talk to some of the Centralia people. On Tuesday the 28th, we met with Bob Gadinski, an ex-Centralian and geologist. He explained the mine workings to Sally and we saw where Todd Dombosky fell in. Then we went to visit John Comanisky where he moved in Fountain Springs. He is a very interesting person and a wealth of information. I know John misses Centralia very much and would move back in a heartbeat. Today the 1st, we were exploring on West Park St. when we discovered a monitoring well that was extremely hot. Someone had a rag stuffed in it. When we pulled the rag out the smoke came billowing out of it. It was like the old days there. I never saw one of them smoke like that, but we were admonished by one of the Centralia people and put the rag back in. I guess they are afraid of giving air to the fire.
| | |
| --- | --- |
| | |
| Here is Sally trying to take a picture of the smoker. | This hole is really smoking. |
On August the 4th I had a chance to talk Gov. Rendell at the Roaring Spring Reservoir where he was campaigning for more funds for bridge repair. I showed the Governor a map of the "Impact Zone" and asked him why the Nectel family was allowed to remain in their home after signing a release for the State and the remaining families were being forced out. He told me he did not know and he would get me an answer if I put my name and phone number on the map for him. Do I think I will get a call, probably not, but I'm going to follow it with a letter.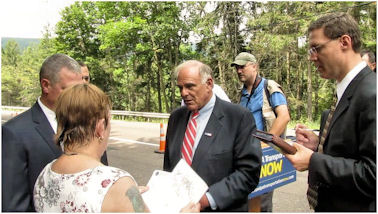 Me talking to Gov. Rendell
We ventured down yesterday (the 28th) because we heard some stories about roads being closed with piles of dirt and "No Trespassing" signs being put up, so we had to see what was going on. For several weeks a company has been putting a pipeline from Aristes through the northern part of Centralia. They have heavy equipment and materials on Railroad St. I found on top of "Hammey's Hill", where the smokers are a "No Trespassing" sign on top of a large pile of dirt erected there by Mallard Contracting of Mt. Carmel. It looks like they are dumping material from the pipe dig on the site. Dirt was put on the old Coddington Gas Station site and now it doesn't smoke anymore, but some of the vents like the #2 vent was smoking which I never saw before. It's possible they pushed the smoke somewhere else.
| | |
| --- | --- |
| | |
| Dirt blocking road on top of burning hill. | Sign posted by Mallard Contracting. |
While we were there we found John Lokitis Jr. sitting on the front porch with Carl Wormer. We stopped and talked until almost 10:00. The both of them are just great to talk to.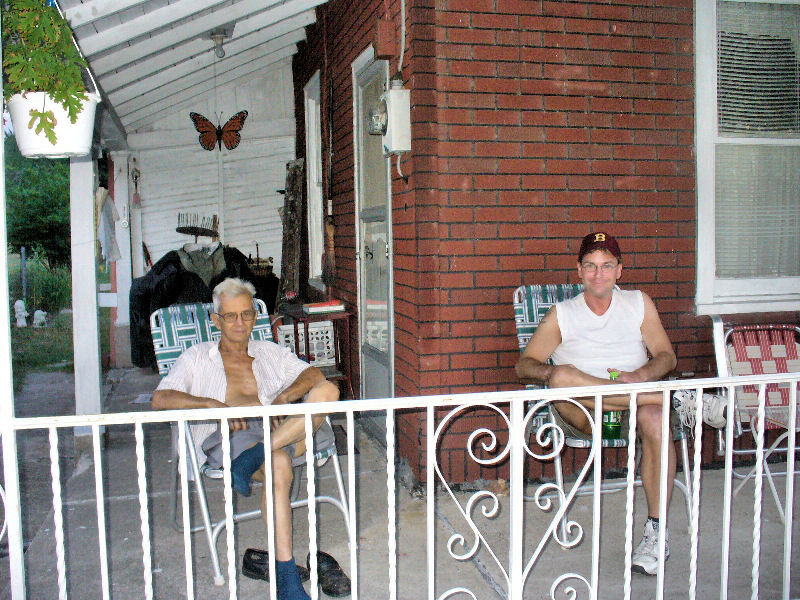 First I want to report the meeting between us and Pat Walters from New York never materialized. Stephanie tried to reach him several times by cell phone with out any response, but my husband and I were down on the 6th just to see how things were going. Most of the people we know were at the NASCAR races at Pocono, so it was more quiet than ever.
My husband and I were in Centralia for Memorial Day. We took some flags and signs for the original monument which is at the location of the old Centralia American Legion Post 608 on East Park St. We put some candles on the graves of the people we recognized and became social members of the Centralia Fire Co. I didn't realize how many members of the club were still active. I have to laugh when people say "Ghost Town", because it wasn't ghosts we were sitting with up at the "Hosie".
On Monday, June 7th, myself and Stephanie Bambina, along with Tom Hynoski, Centralia's fire chief will meet with Pat Walters from New York radio station WNYC to discuss the situation in Centralia I will post the results of that meeting.
This morning, 5/10/10, myself, Stephanie Banbina and Tom Hynoski, the fire chief of Centralia talked to G Gordon Liddy on his radio show broadcast across the country about Centralia.
If you want the truth about Centralia click on the button to listen to that talk.
Please be patient, the page takes some time to load.

Question of the Day.
Why does a certain mining company west of Centralia, who also owns 52 acres of land in Centralia, have the same lawyers as the Department of Community and Economic Development, the agency who is evicting the Centralia residents?
Also today in the Press Enterprise from Bloomsburg. A Texas firm believes they can put out the fire in Centralia Nitrogen foam. CAFSCO Fire Control said they have put out dozens of mine fires, they believe they can do this. Tom Rathburn, spokeman for the DEP said "We need to see more evidence, track records, proof that it works" "Centralia is a huge project and we don't have the money to experiment with it". Why is the DEP not wanting to try? They don't want the fire out? Makes you wonder.
On Monday, April 26, my husband and I met with a reporter and photographer from the Pittsburgh Tribune in Centralia. He came here to write a story on what is going on with the people there. We told him what was going on and he took a ride around Centralia to see what was left of the town. I gave him the 2008 DEP Air Quality Report and well reports from 2003 forward, proving the temperatures in the wells have gone down tremendously and their is no noxious fumes affecting the air. After we finished with him, he met with Tom Hynoski, Centralia's fire chief and former resident John Cormanisky, who basically told him the same story that I had. I'm hoping this time we will get some help in keeping the remaining residents in their homes. I want to make sure that Stephanie Bambina (CentraliaHeart) gets credit for bringing this reporter here. She initially made the contact with the newspaper.
I search the net almost every day for old pictures of Centralia so I can show what the site looks like now. In the course searching, I see Centralia referred to as "Hell Town USA", "Town that is waiting to be swallowed up by Hell", "A little piece of Hell on earth", "Hell's upper story" and most of all "Ghost Town". I get really annoyed when I see this because people then show pictures of the split open route 61 or the smokers on the hill. These are not Centralia. Centralia is a little borough of about 6 homes in a very peaceful and quiet area. The fire on the hill or the split in 61 have nothing to do with these people. If anyone has ever met and spoke to them, they would see they are a very fun-loving and pleasant people, just trying to live day to day, like everyone else in the world. I know for sure they do not like the terms that are used to refer to their little town like that. These terms cast a very negative view on these people. So to anyone who is writing a story on Centralia, forget the fire and brimstone and have some consideration for the people who want to live there.
I had mentioned several time above that Tom Hynoski was the fir chief of Centralia, now I'm going to mention Centralia has working and responding fire company and ambulance. Engine 341 and Ambulance 340. From the files of Aristes Fire Co I obtained some of the calls in the last few months.
April 30, a wildfire on Snake Road, Conyngham Township.
April 24, a wildfire endangering a residence and vehicle.
Jan. 18, Motor Vehicle Accident with multiple injuries o Big Mine Run Road.
This was an important one- there were only 2 sheds and a garage on West Park St. They used to belong to John Lokitis Jr. before he moved. Interesting!
December 13 Structure Fire- West Park St, Centralia Borough on Box 340-01. T353 responded with E352 being held in quarters. Upon arrival found 2 well involved storage sheds 10' x 10' each fully involved endangering a 15' x 20' single story garage. T353 arrived taking up a position on the A/D corner of the exposure garage and placed 1 1.75" attack line in service. Fire was extinguished with the garage being saved but suffering fire damage to the exposed side. T353 remained o/s until being released by 340 Command. Also responding were E341 and A340 with E331 and T332 being recalled prior to arrival.
File courtesy of Aristes Fire Co
Many, many pages have been written about this little town in eastern Pennsylvania, but after being there on several occasions, I decided to do my own and with a different twist. By now everyone or just about everyone knows how the mine fire started in 1962, but there a little bit different tale to this story. You see the Department of Environmental Protection and the Federal government convinced the people of Centralia that their little town was going to burn up with the mine fire. The state took eminent domain over the town in 1993 and all but maybe 6 homes are gone. The people of Centralia take real good care of their town, their municipal building has the nicest manicured lawns I've ever seen, and the flag flies above the building every day. They still have a fire department. One thing they don't have is a zip code, the postal service took that away too. Now they get their mail delivered from Ashland, a town to the south of them. Every one of their yards are well taken care of and their homes are very neat and clean. It's awful strange for people who believe they are going to be burned out. But you see they're not going to be burnt out, they are going to be evicted by the state of Pennsylvania. You see the state went out of their way to prove by monitoring and testing, that the people would die if they stayed there. The fumes from the mines would kill them or their water would be no good or worst of all they would be burnt out. Some people didn't believe that and they chose to stay. Some of the old people knew the mines too well. They fought the courts and lost, now there's no hope for them unless it can be proved that the state and the federal government was wrong. You see Centralia unlike the rest of the state owns the mineral rights under their homes, which is estimated to be billions of dollars in coal. Now if they are gone, the mineral rights turn over to the state, then the state can sell those rights to a coal company who is interested and they make a fortune, and turn the quiet town into another big black hole, like the rest of the state.
Here's the latest update! On Tuesday the 16th, my husband and I took another trip to Centralia and we spent a great afternoon talking with Carl Wormer and then Helen Hynoski and her family. I had sent some information to Helen Hynoski and her son Tom had phoned me. Still I was very reluctant to go to the door. These people are great. They are very friendly, but they do not like to be bothered by sightseers. Imagine how many people in a day pest these few remaining people. If you're going to Centralia to see the town or the fire sight, don't knock on these people's doors. They've had so much since 1962. I thought I would throw in some pictures we took today including Helen and her family and Carl Wormer.
| | |
| --- | --- |
| | |
| That's me talking to Helen, her daughter and her daughter's boyfriend. | This is Helen's son Tom , who is the Centralia Fire Chief. |
| | |
| --- | --- |
| | |
| This is me talking to Carl Wormer | Here is a sign one of the group placed at the fire site. Very appropriate I think. |
.
I received an email telling me John Lokitis' home was torn down. I had to go an see for myself. This afternoon (1/6/2010) I took a ride there and found out not only John Lokitis' home was torn down, but also John Comarnisky's. It's strange , because Mayor Merwine's is still there. Not only does the mayor's home remain, but we caught the mailman delivering to his mail box. Cars were all over taking pictures as before and people were out looking at things. Someone with a small truck was plowing the streets, I guess he was from Ashland, because he left in that direction. Only 3 small smokers did we see on the hill today, nothing more than in September. And 2 of the vents on the hill were cold compared to still being warm in September. The Christmas lights were up and there was a manger scene on the main street corner. We took a ride up to Wilburton and found the memorial and the bench in front of the building marked with a sign "American Legion Centralia Post 608, Wilburton, PA" on the corner of the lot, just as John told they were. Naturally, I've included pictures to see of today's trip.
As if Centralia needed any more devastation, they sure didn't need the 50 some tombstones that were toppled in Odd Fellows Cemetery over the Christmas holiday. We saw the news on WNEP and took pictures there today (1/6/2010) also.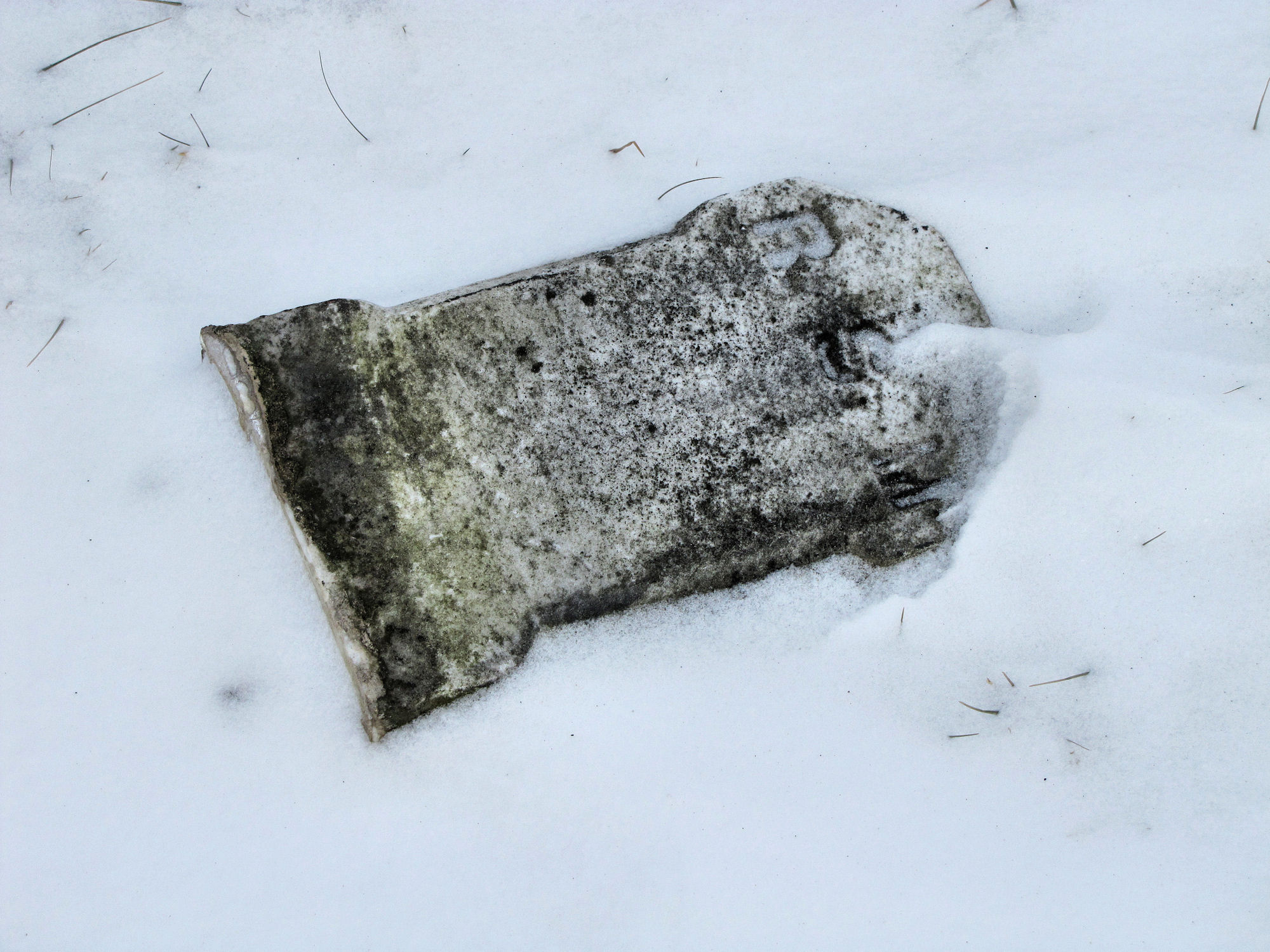 This one looks like it might have been the stone of a small child or baby.
In case no one has heard. The people who had broken the tombstones, were a 19 year old man and three teenage girls, 17, 14, and 13, all from Wilburton. It seems that girls are now getting worse than boys. I really hope justice is served in this case.
On a brighter note, I took some pictures of the Christmas decorations, here are 2 of them.
The dedication to this town by it's remaining citizens is incredible.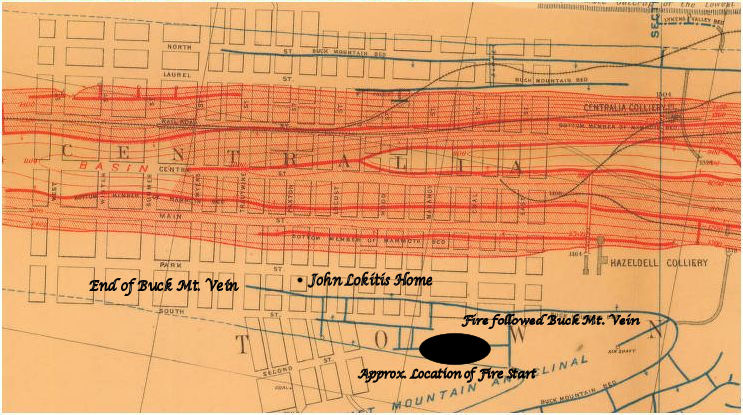 After careful thinking I decided to put in this picture of an 1882 mining map that I downloaded from the Penn State Digital Library. I inserted a few points. If anyone has followed the story of Centralia they would know the fire followed the Buck Mt. vein. This map depicts the Buck Mt. vein and the western extent of the vein. Also note the distance between the Buck Mt. vein and the bottom of the Mammoth vein in red. I inserted this for your viewing pleasure and for you to draw your own conclusions.
I finally got a chance to see the Town That Was, the documentary of Centralia. If anyone could view that and still have a dry eye, then they must have no feelings at all. It made me more interested in trying to find a way to stop the state and save the people that are still there. But this is hard to do on my own. If I could enlist some of the former people of Centralia to help, it would be a lot better.
| | |
| --- | --- |
| | |
| Centralia in the | early 1960's |
| | |
| --- | --- |
| | |
| Centraila in the 1970's | Centralia 1986 |
When I was there on Saturday, May 16, something just didn't seem right. I didn't smell any sulfur and I only saw some small puffs of smoke coming out of a few small vents coming out of the ground by the cemetery. Oh, yes, and I can't forget the big cracks that are in the old route 61 that had some small smoke puffs coming from them. When I came home I couldn't get the town out of my mind, so I checked every source I could on the internet and I collected pictures from 1999 forward. What really got my attention was some pictures that were taken from a plane. The area where the fire was was contained to the top of the hill by the cemetery and old route 61. My question was, why after 47 years didn't the fire move more. Why didn't the fire go south toward Ashland, and why didn't it go west toward Mt. Carmel, and above all why didn't it go down the hill toward the houses? I had to go back and see more and see if I could talk to one of the residents.
With those thoughts in mind I went back today. I rode around the yards where the vent pipes and monitors were and they were all gone. A few stragglers were here and there, I think I found 2. On the hill by the origin of the fire there were 6 huge vents, each marked with a number. There was no smoke and they weren't even warm. One of them was stuffed with bricks and trash. The metal cages around them were broken and they looked like they hadn't been maintained for quite a while. After riding around for almost 2 hours, I was stopped by one of the residents, who asked me if I was looking for something. I asked him why there were no vents and monitors and he said the fire is almost OUT. It was as I had suspected. He said the reason they hadn't left, his grandfather knew the mines and knew the fire would not come down the hill. He told me that his family had to be out by Labor Day. I asked him if there was any way they could be able to stay there and he said no. He was a very nice person and I felt very bad for him and the rest and if there is anything in my power to help these people I will. Someone wanted that coal so bad they forced 1100 people from their homes and the state and federal government allowed this to happen. I'm not looking to anyone, but there are NO TRESPASSING signs on the hill by the origin of the fire, and they belong to a coal company.
Here are some pictures of Centralia today.
| | |
| --- | --- |
| | |
| The Time Capsule to be opened in 2016 | Memorial to the war veterans 5/30/09 |
| | |
| --- | --- |
| | |
| St Ignatius Cemetery on the hill by the fire. | Odd Fellows Cemetery where the fire began. |
| | |
| --- | --- |
| | |
| The Municipal Building with it's manicured lawn | The Old Park Bench |
| | |
| --- | --- |
| | |
| Russian Orthodox Church Still Holds Mass | St. Peter & Paul Orthodox Cemetery |
| | |
| --- | --- |
| | |
| This praying soldier silhouette is in St Ignatius cemetery | This beautiful shrine is part way down the new route 61 |
| | |
| --- | --- |
| | |
| Vent pipes with broken cages | Gas monitors with nothing coming out |
| | |
| --- | --- |
| | |
| An old well casing plugged up with junk. | Another monitor sealed shut (On the hill where it's hot) |
| | |
| --- | --- |
| | |
| Location of the fire | origin, now backfilled. |
Something was brought to my attention as I was writing this. I was reminded of the subsidence's in Drifton, PA, a short distance from where I live. I believe there were 3 in the last 15 years. The people of Drifton begged the state to buy their properties and they refused (Articles in the Hazleton Standard-Speaker 2008). The last subsidence was only about a year ago. The Office of Surface Mining came in and filled the ground with cement and told the people it was alright. One of the residents had no mine subsidence insurance and had his home torn down, it was the second time for him. Why wasn't the state interested in his home? Maybe the coal was all gone from underneath and of course, he didn't own the mineral rights.
Some of the pictures I captured from the internet, are some of the most heartbreaking I've ever seen. I've put them here to see if they have the same affect on the public.
| | |
| --- | --- |
| | |
| Coddington's Gas Station & Home Being Demolished | This was the Moyer home. |
| | |
| --- | --- |
| | |
| I think the saddest I've ever seen | was to seen this beautiful church being torn apart |
It's obvious to me that the good people of Centralia care about their town and are a very religious people. It's also very obvious to me that the state has shown their side and don't care about them at all. They know they've won or at least think so, this is evident because of the deteriorated shape of their monitoring devices and venting system. They've scared away most of the people and they'll force the rest out. I don't see how anyone could live with themselves doing such a vicious thing to these people. The man I spoke to this afternoon told me "greed and fear tore this town apart". Only misfortune will fall on those who deceived this community of it's mineral rights.
On June 3rd John Comarnisky, one of Centralia's final residents was forced from his home. John said "I didn't think they would ever get to the point when they would say you have to go. Obviously, I thought it would be a situation where they would let us stay as long as we want to - die of old age here, live our lives as we wanted to here."
| | |
| --- | --- |
| | |
| This is John speaking with news people. | This is John's home far away from the fire. |
I had a chance to visit Centralia on Sunday June 28 and John's house was still standing. I don't know if they are waiting for the rest of the people who have to go to rip it down or what.
Another thing John can't understand is this 2008 document saying the air in Centralia was fine.
Something is obviously not right here.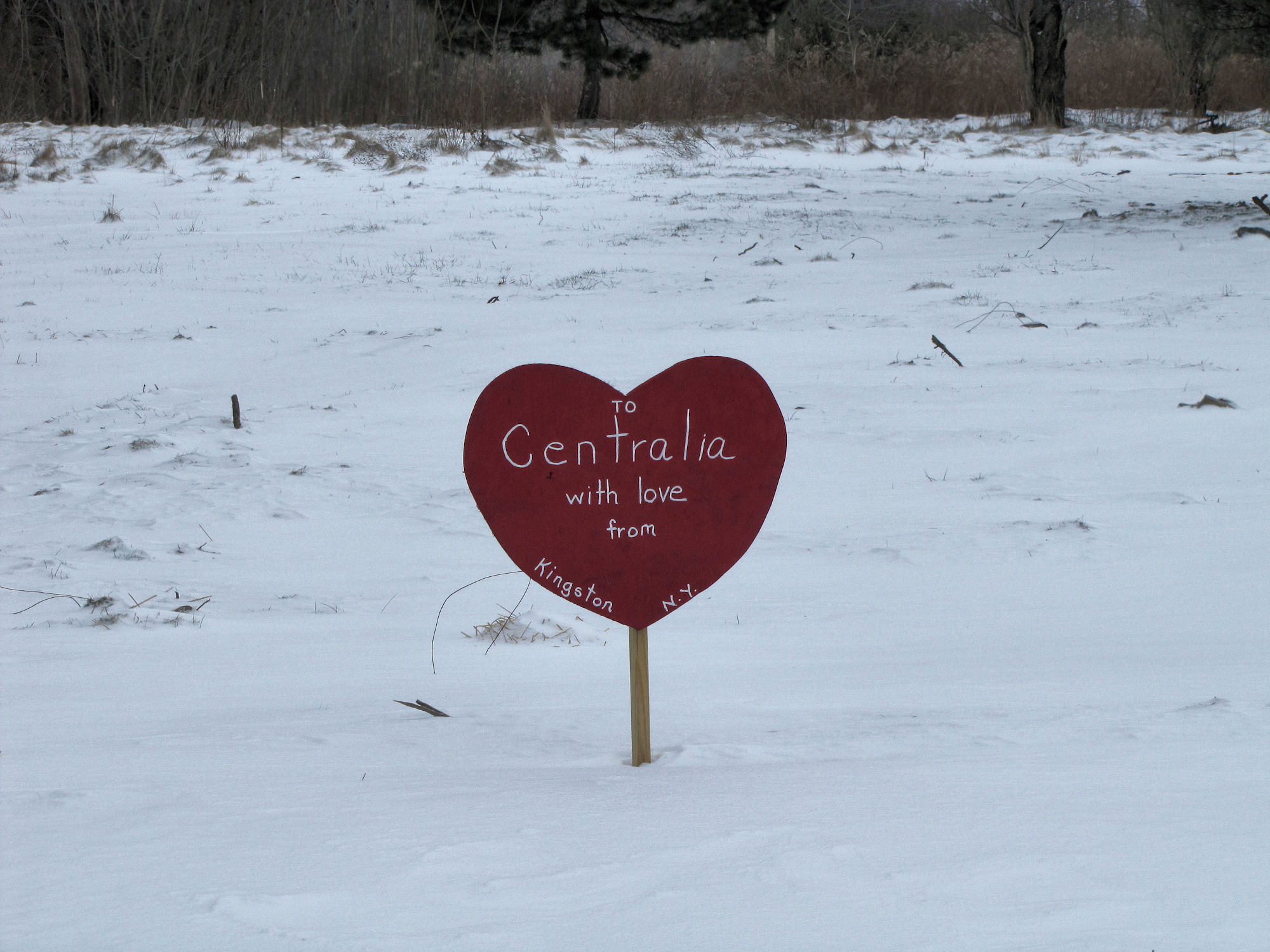 This is the former site of John Cormanisky's home on 1/6/2010, now replaced by an empty lot and a heart sign that reads "Centralia with Love - Kingston, NY".

Someone took the heart from the site.
Here are pictures of the corner where the bench stood and what's left of the memorial and the flag that stood in front of where the American Legion was.
It was very upsetting. I spoke to John Lokitis Jr. through email and he assured me the memorial was all right, it was taken to the Centralia American Legion Post Home 608 in Wilburton, along with the bench. (Although it's really not a Centralia Legion). Now that John is gone, Tom Hynoski, the Fire Chief has the keys to St. Ignatius Cemetery and he opens and closes it every day.
New Sign For Former American Legion Site.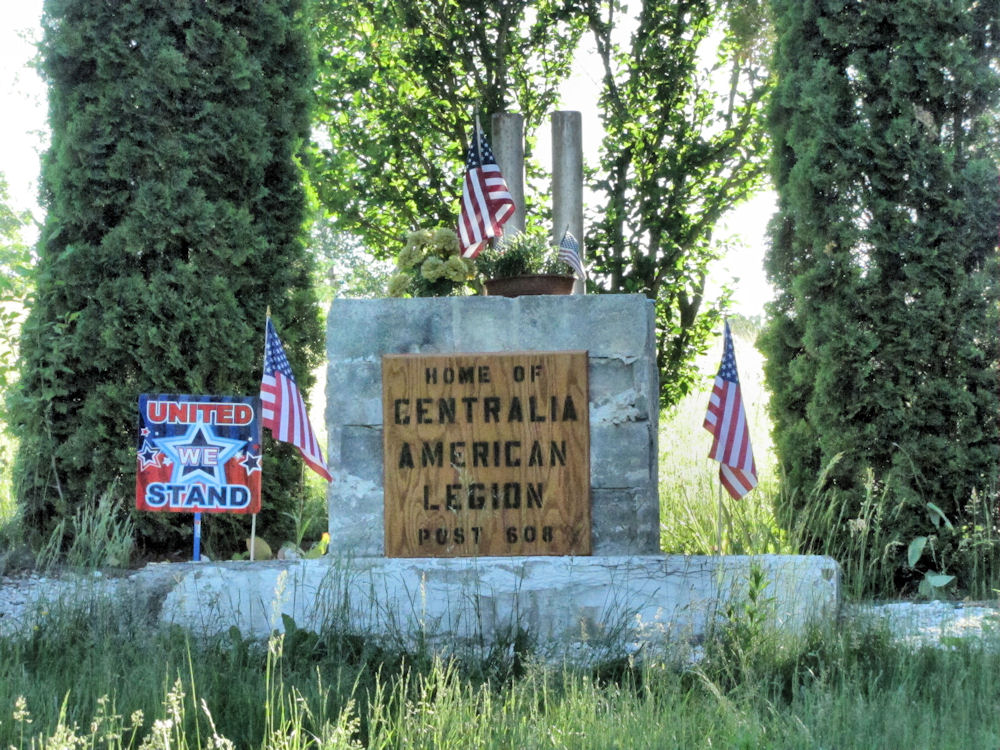 Wilburton Centralia American Legion Post 608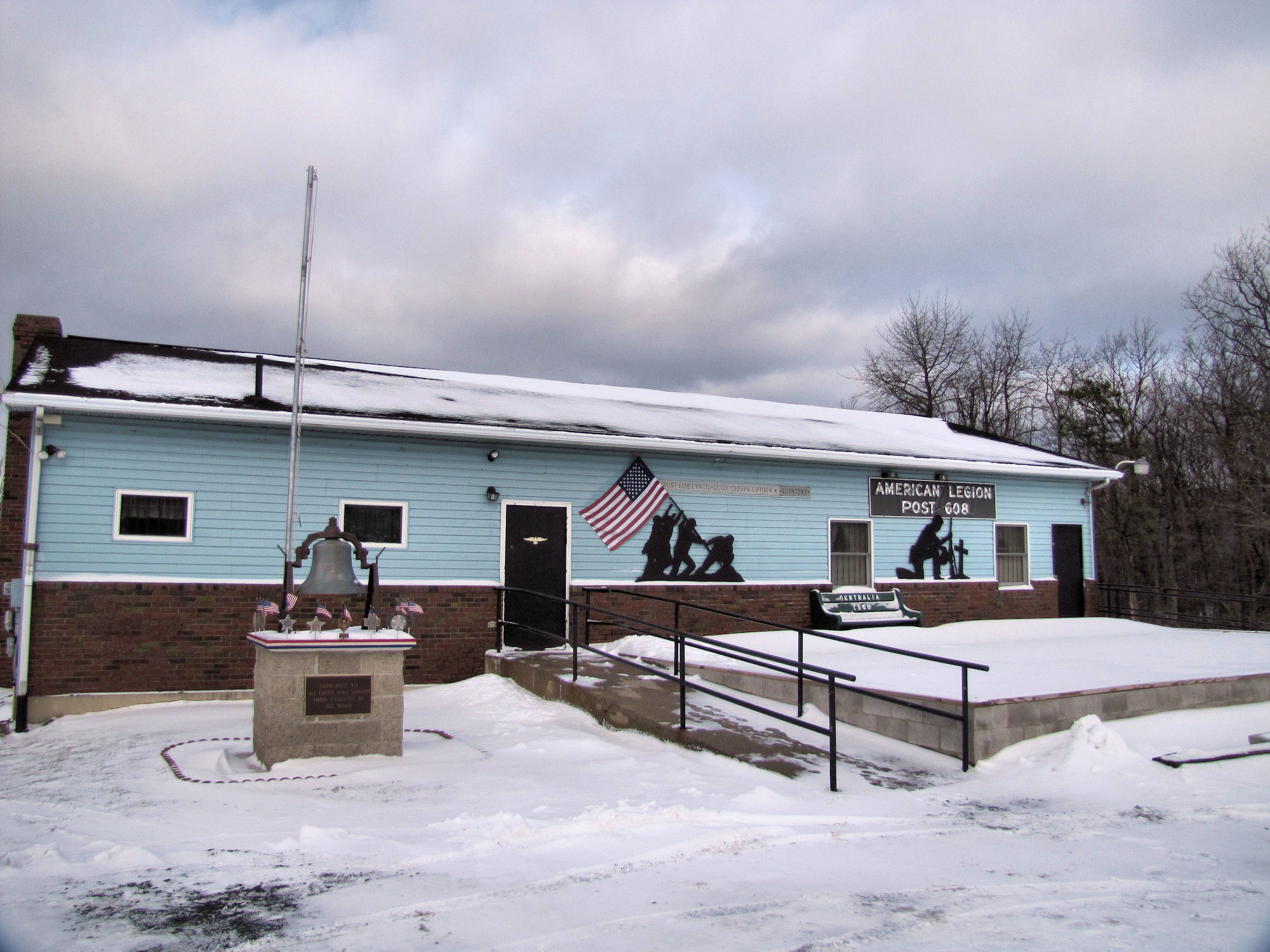 Here is a picture of John's home that was taken Sep. 5.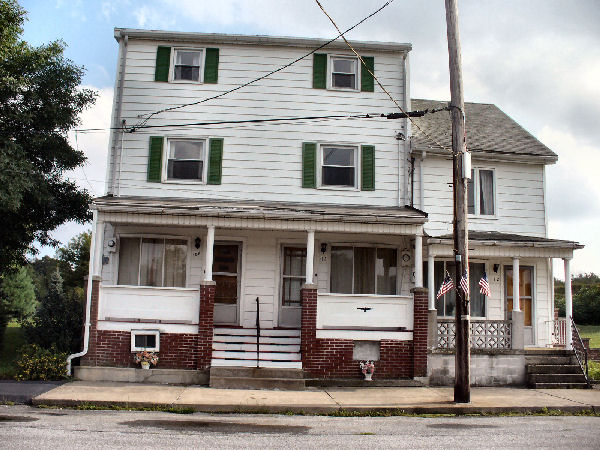 This picture was taken 5/17/2010 of where John's home stood.
This is a scanned document from the Residents To Save The Borough Of Centralia, March 1984.
These people weren't as stupid as the state thought.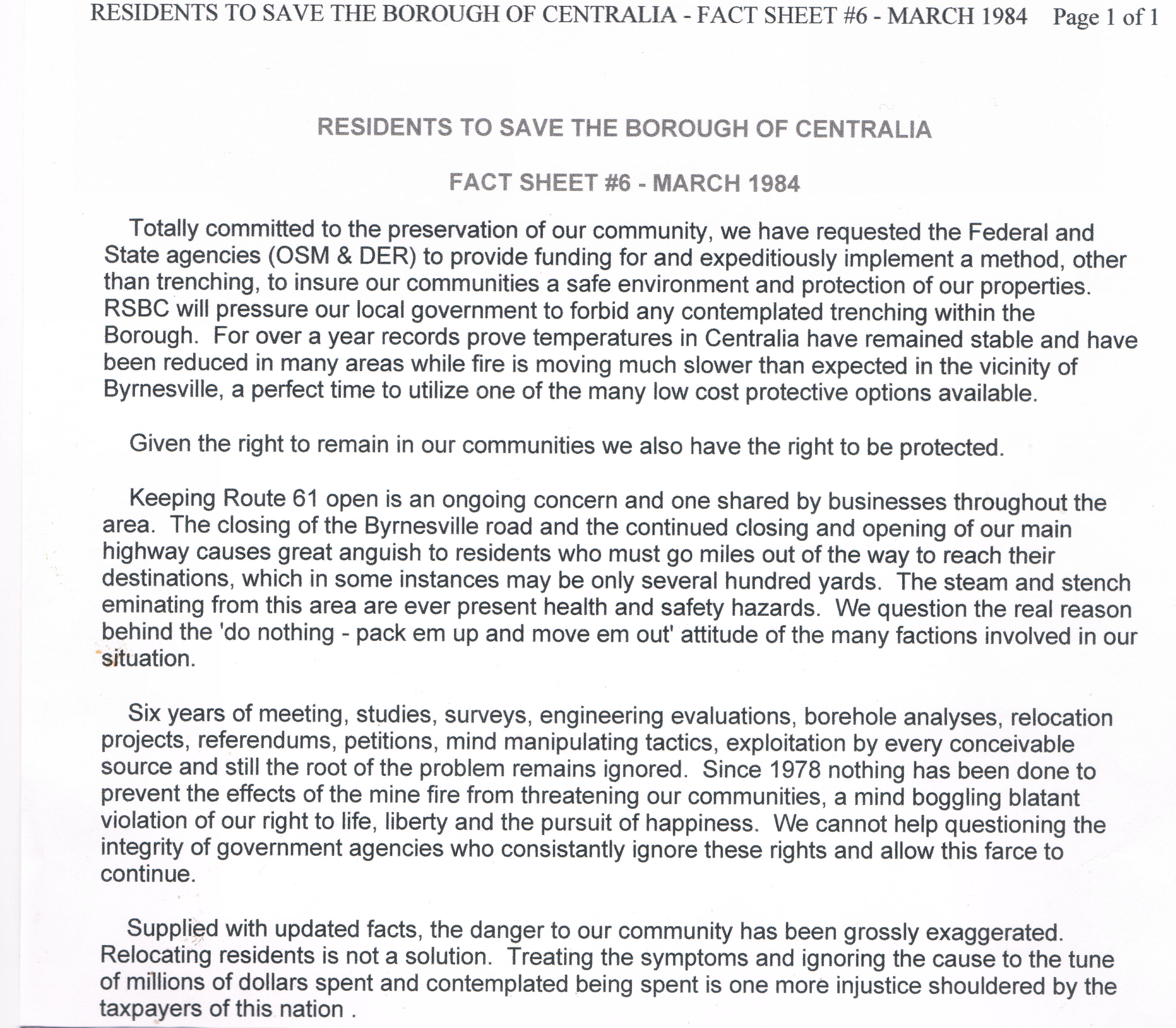 If only those who left would have believed those who stayed, things might have been different.
BLESS THE PEOPLE WHO REMAIN IN CENTRALIA
AND THE PEOPLE WHO WERE AFRAID TO STAY
You Are Listening To Ken Battista's "Centralia"
Copyright ©2004 Ken Battista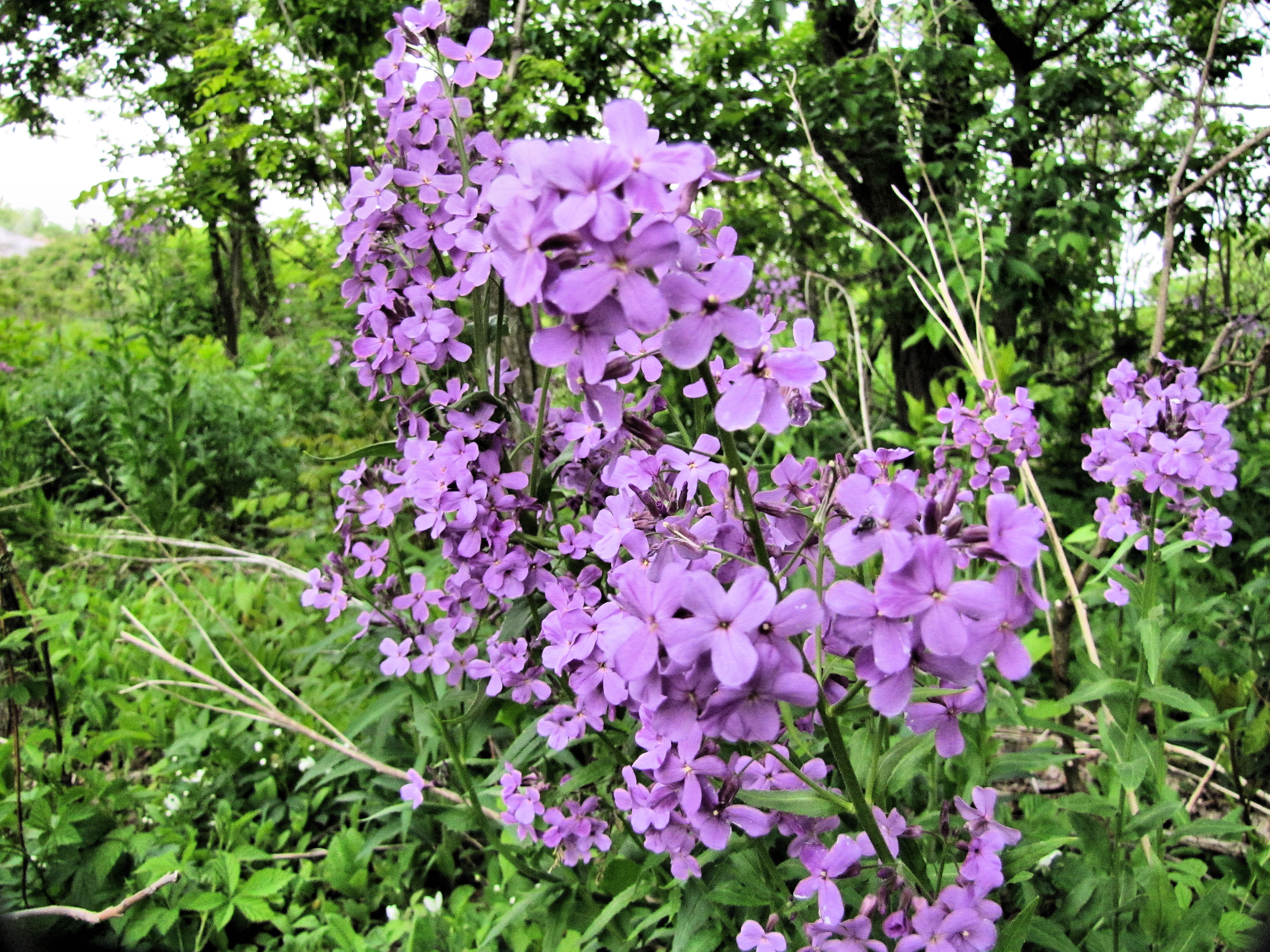 Ken sings of Azalea's not blooming in Centralia anymore, but these plants bloom very well.
This page was updated 10/26/2014
©2009 - 2021Oscette@ptd.net